good morning! it's friday! yippeeee!!!! bring on the weekend :) thanks for letting me vent a little yesterday.. but as promised, i have a little goodie for you :) how hoes a tutorial sound?
yes? good. cause i've got one for you.
here at nook. i love and i mean
love
my coffee. i need it very much. so i thought i should do something nice in honor of coffee. here it is!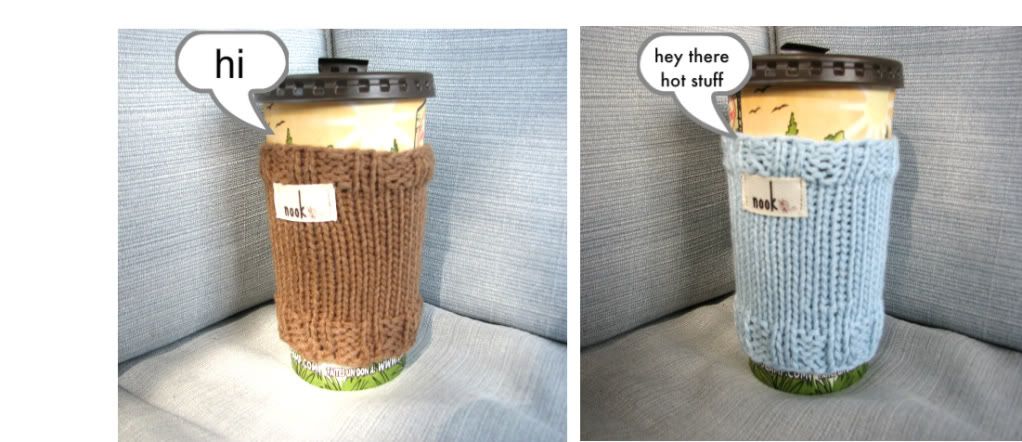 no more double-cupping it folks! this eco-friendly sleeve for your coffee or tea on the go will keep your fingers happy. it's small & portable, not to mention it adds the perfect style to your morning... - or whenever you favor your cuppa :)
it's sized to fit most "to go" coffee cups
here's what you'll need:
needles: 3.75mm/US 5 dpns
yarn: berroco weekend aran weight. but a worsted would probably work fine too.
using the long-tail method, CO 36 sts. join to work in the round, being careful not to twist your sts.
you can use a stitch marker to mark the beginning of your round if you'd like, but i just use the end of the tail from casting on. it's up to you.
k2, p2 ribbing for 4 rounds.
switch to knitting in stockinette (knit every round) for 3"
k2, p2 ribbing for 4 more rounds.
bind off in patt.
weave in the ends, and you're done!
see? what an easy fun tutorial! i'm happy to share it with you! hope you have many wonderful coffees, lattes, hot chocolates, teas... whatever your little heart desires with these puppies. my hubby has already requested the brown one for himself. he loves them!
if you're not a knitter, do not despair! these little cuties will be listed in the shop soon. they make great gifts!
copyright nook2011. pattern is for unlimited personal use. please do not reproduce or sell this pattern, or items that are knitted from this pattern. for any questions please contact rebeccanook@gmail.com
cheers to a wonderful weekend! i'll be back bright and early monday morning!
what are you up to this wonderful weekend? any exciting plans? please leave me a comment, i'd love to hear about it!